Wow was that slow!?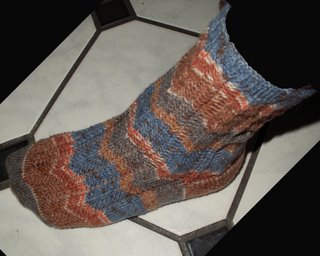 Last night, the last stitch was cast off and the last tail woven in on my Austermann Step socks. They came out quite nicely. Except for some weird looking pictures of my feet. I don't know why but I struggle with photographing socks and my feet. One would think it was easy, simply look down and *snap* right? NOoooo just weird freaky looking shots that make it appear I actually have no ankle. Fortunately for you I have filled in the color on my leg so you don't have to see the pasty color with all the unsavory unshavenness going on...
What else is on the needles now aside from that crazy shirt I am working on? A shawl from the Viictorian Lace Today for my mom, she picked the what was probably the hardest project, knit on both sides, the k2tog go right on top of the previous rows yo. It is crazy when you make a mistake and have to pick back. Then in my usual form I pulled one needle out like a spaz and dropped 1/2 of the work (this was about 30 rows in) and had to pull back almost to the cast on.
Also my traveling project cast on is a knitted flip top glove
Broad Street Mitten
on the
Knitty
website I began yesterday after I finished the sock. I am using the
Colinette Jitterbug
that
Teenuh
gave me for Christmas. I am thinking though about not making fingers and instead making it into a fingerless mitt kind of thing with a flip top over it. Especially since the pattern calls for about 30 more yards then what I have. I know that eliminating the finger portion will greatly reduce the amount of yarn I need. Plus think of all those woven in ends.... I have also debated making one finger (maybe the index finger) and the rest in one opening so that the mitt part will stay down when flipping back the flip top. Duh! I just realized I should have run the yarn through my meter to cut it in half then I would know exactly how much each one took. I may just run the yarn through from the ball and cut where it should be half....