Vickie Howell, how knifty!
Last night Teenuh and I went over to
Full Thread Ahead
for a Vickie Howell book signing, yarn promo and her
DIY Super bowl Knit
In promo. She talked a little and answered questions. What a nice friendly lady she is (and every bit as cute as she looks on tv, boy she is tiny see the pic of her and me below, her wearing like 4" Steve Madden Heels and me like 5'11" in my Bass slip ons.) I am sure it improves her male viewership.
This is her modeling her new original pattern for a crochet and knitted shrug made out her new super yummy soft soy/silk yarn
Love.
It is so very nice and soft and drapey. It is fairly pricey but a few skeins for something nice, worth it. She is smirking because she didn't want to model it because her outfit did not match with the shrug. I love the names of all her yarn colors they are hillarious and/or cutely named.
Last but not least here is tiny Vickie standing next to
GIANT
me. She is so friendly she will just chit chat away with you while she signs your book and even after she is done. She doesn't make you feel hurried or like you are bothering her a bit.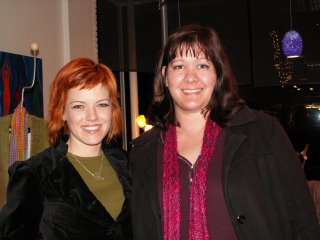 You couldn't imagine a more pleasant experience. Don't miss the FTA super bowl sale.
Knitwise, today I fnished one of the Broadstreet mittens without the flap. I made the fingers on it and decided in fear of running out of yarn that I would make both glove parts of the mitten first and then divide the yarn in half and make the flap portion. I am evening thinking maybe I should make the flap part from the point up and work backward and then I'll know exactly how far I can get with it.... but then it would be hard to join. Hmmm, decisions decisions.